AlayaCare App Redesign
Posted: March 16, 2023

Yesterday the latest version of the AlayaCare app was updated with a new design.
This newly designed app is being automatically updated on all Milestones tablets. There is nothing you need to do to receive the new app.
These updates change the view you will have of a patient's chart, including the places you'll tap on screen to open your notes, and access information about your patient care during your shift.

Overview of Changes
Signing into the app has not changed.
Continue to enter your email address and password to sign-into the app.
Finding your shift has not changed.
Once signed into the app, you will be brought to the current day on the schedule, and you will see any assigned shifts for the current day.
Shifts appear in rows, as rectangular blocks that run from edge to edge on the app. Tap/click anywhere along that block to enter the shift (you have not clocked in yet, but you will see the details of the shift, including patient information.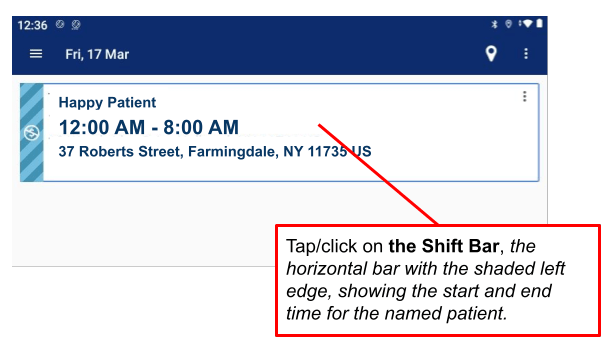 Clocking into your shift has changed slightly.
Once you are clicked into your shift, a "CLOCK IN" button appears at the bottom of the screen while the green clock you're used to seeing is moved to the upper right corner of the app. — Click either button or icon to clock in.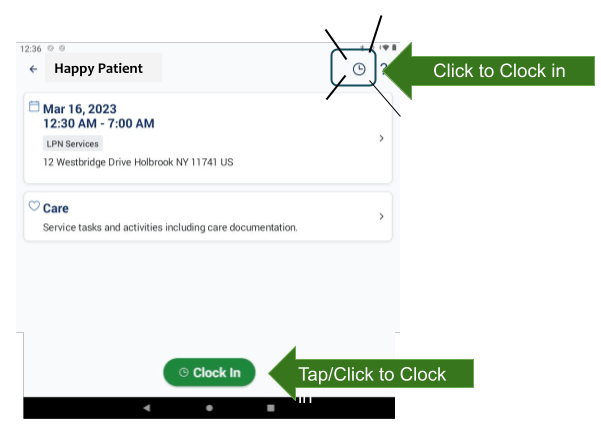 Finding and Opening the Nurses Note has changed!
Menus on the chart are gone; these sections are now embedded in the "Care" section of the patient's app.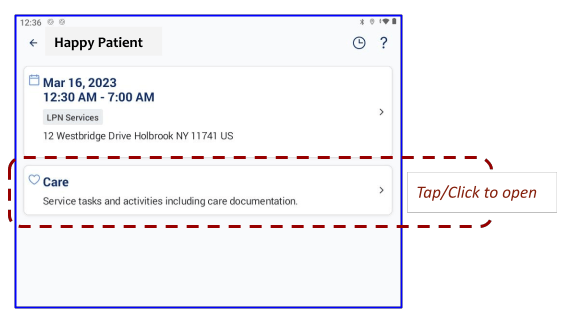 Forms, secondary/recurring Vitals & Medications are all part of Care Delivery
Tap/click on Forms, then tap/click on Add a Form to see the list of available forms…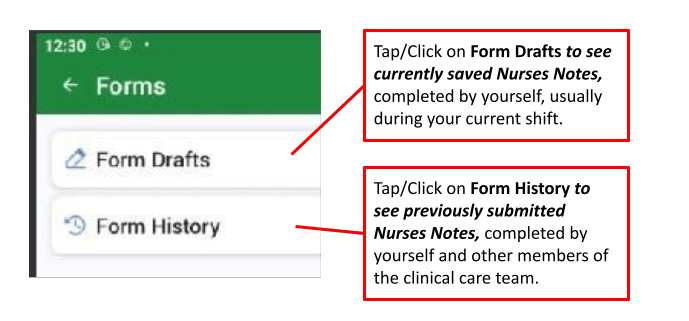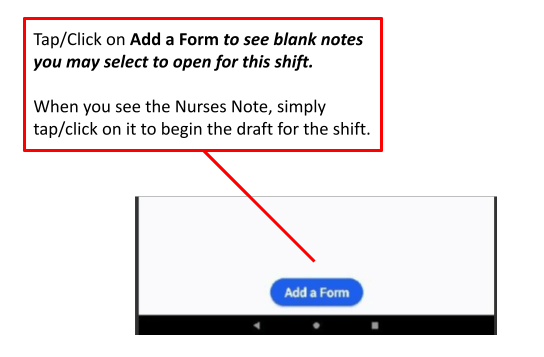 Click on Nurses Note to begin documenting your patient care throughout the shift.
~~ Only select Nurses Note ONCE each shift…
~~ Once a note is started, continue to exit & save it to draft; reopening it for more edits during the shift. Continue this cycle of open&edit, then exit&save/update til the end of your shift… Only submit when your shift is coming to a close.
Use the arrow in the upper left corner to step backward through the app.
If you are editing a note, tapping the arrow will exit the Note and prompt you to save the form as a draft. Later it will prompt you to update the changes, after the first save.